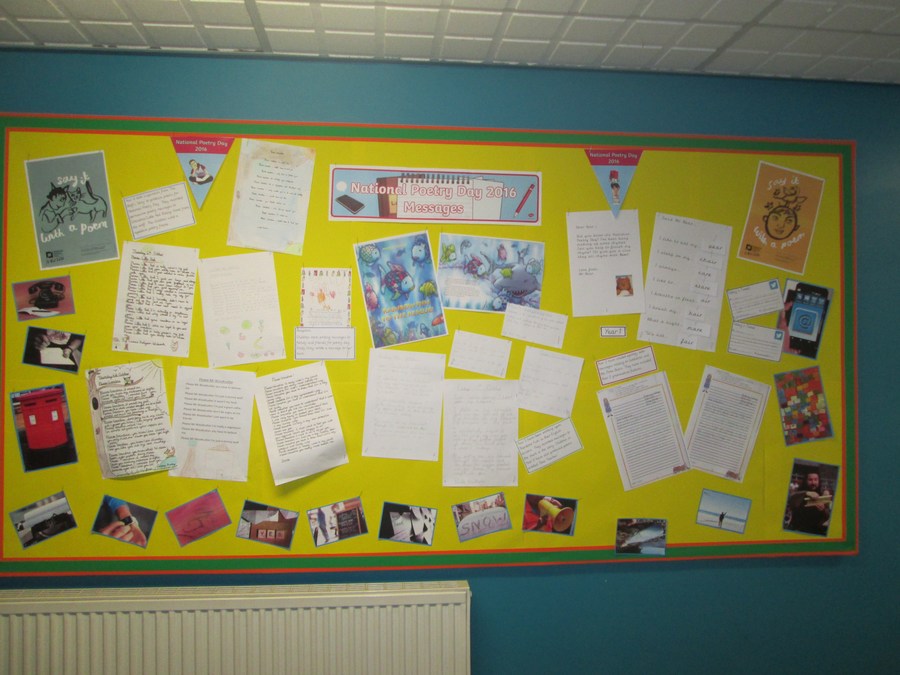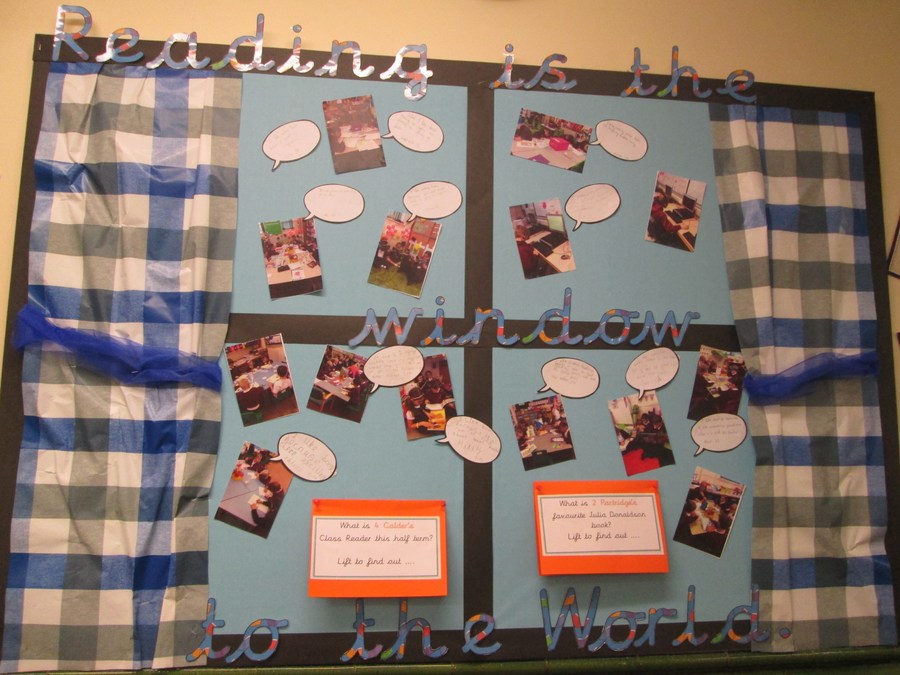 Curriculum
In Early Years children follow the Early Years Foundation Stage Curriculum(EYFS)
This is made up of 7 areas of learning.
The areas linked to Literacy are:-

Communication and Language (C&L)
Literacy (Reading and Writing)
In Key Stage One and Two, children follow the National Curriculum.
The National Curriculum divides English into:

Reading
comprehension (both listening and reading).
Children in Early Years and Key Stage One are encouraged to take their reading books home each night to share with their parents/carers. This is known as Home/School Reading.
At Key Stage Two, children are encouraged to read widely, and to discuss and write about the books they have read with increasing perception. Parents can provide valuable assistance with this development process. All the children in Key Stage Two have a home blue reading record. The children also have yellow in school reading record which is used for independent school reading.
KS1 Reading Schemes
A display relating to reading at Horbury Primary School is displayed outside Miss Christofi's classroom. Please take a look next time you are passing.
Early Years

In Early Years we introduce letters and sounds and books that the children can read themselves. The reading scheme we use is: Oxford Reading Tree

These books help the children to build on the phonics work that they do in class each day.
Key Stage One
In Key Stage One, the good work in Early Years is continued. Reading is taught through:
Guided reading - is 'small-group reading instruction designed to provide differentiated teaching that supports children in developing reading proficiency'. The small group model allows children to be taught in a way that is intended to be more focused on their specific needs, accelerating their progress.
Individual reading- children read their reading book one to one with an adult.

There is also still a strong emphasis on phonics (letters and sounds)
The main reading scheme that is used in school is Oxford Reading Tree.
KS2 Reading Schemes:
In Key Stage 2, the children take part in a Guided Reading carousel each morning between 9:00 and 9:30am. Within these sessions, the children develop their reading comprehension skills. During the week, the children will complete pre-reading tasks, guided reading with the teacher, a follow up task and independent reading comprehension tasks.
Many classes are using the Oxford Reading Tree Project X materials within the Guided Reading Carousel and the children really enjoy these exciting and stiumulating texts.
During Open Classrooms, your child's class teacher will be able to further explain and demonstrate the reading carousel.
Writing
handwriting

punctuation and grammar

composition

spelling
All classes from Year 1 - Year 6 have adopted the book - led reading approach.

A display of poetry work from 'National Poetry Day' is on display outside the Year 6 classrooms.
Spelling, vocabulary, grammar, punctuation
Grammar and punctuation is taught within writing sessions. Children are taught specific grammar/punctuation tterms and apply these to their written work. Grammar and punctuation terminology is introduced in different year groups . A glossary of all the grammar and punctuation terms used within the primary school curriculum can be downloaded by clicking on the link.
Glossary of grammar and punctuation terms
Children at the end of Key Stage 1 (Year 2) and Key Stage 2 (Year 6) sit a spelling, grammar and punctuation test.
Children are provided with age appropriate spellings to learn each week and the children are tested upon these spellings. The children are encouraged to apply their spelling knowledge to their written work and use the spellings they have learnt to improve and develop their writing.
Phonics
In school we follow LCP Phonics and Letters and Sounds.