SEE BELOW FOR INFORMATION ABOUT OUR PURPLE4POLIO PROJECT...
WATCH THIS PAGE FOR OUR BLOG TELLING YOU ABOUT OUR NEXT PROJECTS AND WHAT IS HAPPENING IN OUR MEETINGS ...
Meet the School Council 2017/18
KS1 Representatives
KS2 Representatives
The School Council at Horbury Primary Academy is a team of dedicated, organised and proud children.
The members of the council play a crucial part in the development of our school and each member takes their role very seriously. As a result of their hard work, they have organised and implemented many positive changes within the school.
The Selection of the School Council happens at the beginning of each School year. One child from each class in years 2, 3, 4, 5 and 6 are elected from a range of nominees. The Head Boy and Girl from year 6 also play an integral role within the School Council. Once the Council is elected, they select a chair and vice chair. All School Councillors wear a distinctive purple badge and the team is facilitated by Mrs Norfolk and Mrs Clarke.
From Buddy Bench monitors to advocates of Anti-bullying, we are role-models who truly represent the voice of the pupils at Horbury Primary Academy, demonstrating RESPECT, EFFORT and SAFETY.
We develop our school and ourselves by discussing ideas and making decisions, whilst respecting the views of everyone
We work together, making every effort to ensure our School is the best school possible
We aim to make pupils feel included, happy and safe
We have achieved so much and feel proud to represent the pupil voice for HPA...
SCHOOL COUNCIL BLOG...
coming soon!
Purple

4

Polio project
This morning we delivered an assembly to inform the pupils of our
We are raising awareness of the Rotary Club and their efforts to eradicate polio by supporting the 'Rotary Crocus Campaign'.
We are planning to have a crocus planting afternoon on Wednesday 8th November. This will entail us selling crocus bulbs for £1 for the children to plant in our school bed the initials 'HPA'. If the children would like to take part they need to bring in £1 on the morning of the 8th and give it to their class teacher.
The School Council will be collecting these children from their classes in the afternoon and taking them to the planting bed.
We are looking forward to keeping you updated on the progress of our project and will post pictures and comments in our School Council Blog. WATCH OUT FOR UPDATES SOON ...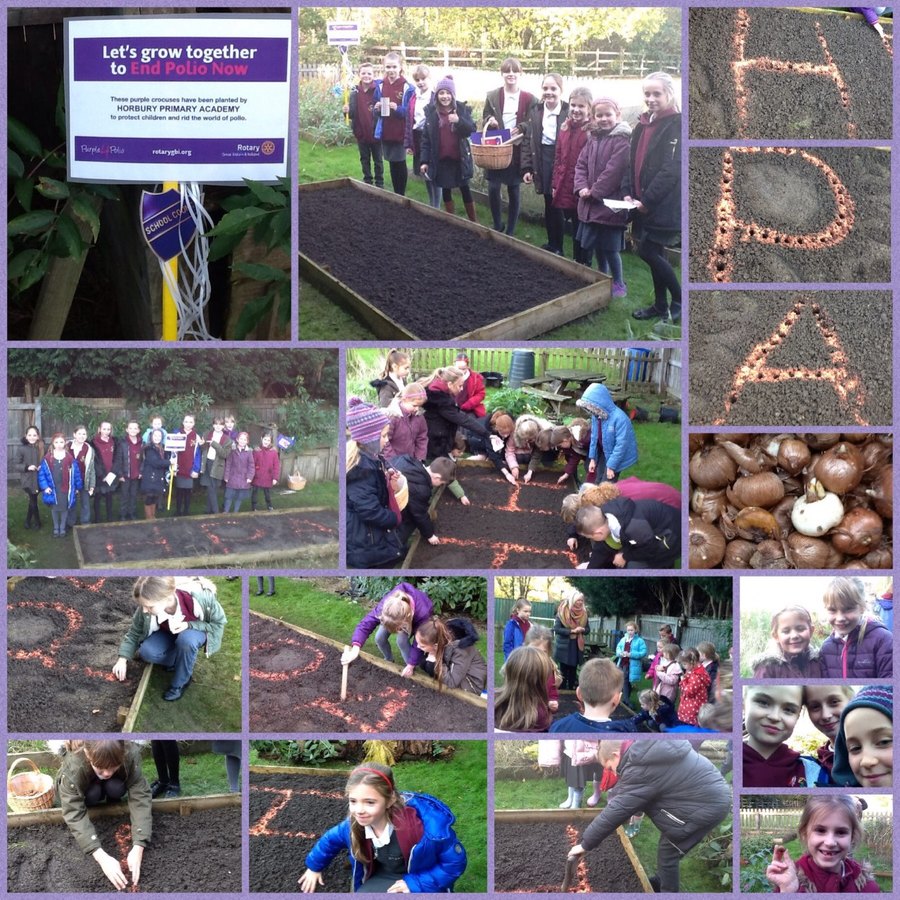 THANK YOU to everyone who helped support PURPLE4POLIO by donating £1 and planting a crocus bulb in our school garden! WE RAISED £175.00
THANK YOU! FOR HELPING US RAISE £425.19 FOR MACMILLAN CANCER SUPPORT. The winner of our tallest cake competition was Mrs Purvis who kindly donated her prize making our GRAND TOTAL £436.19! THANK YOU FROM THE SCHOOL COUNCIL.
.
Here are some of the projects from previous years...