Art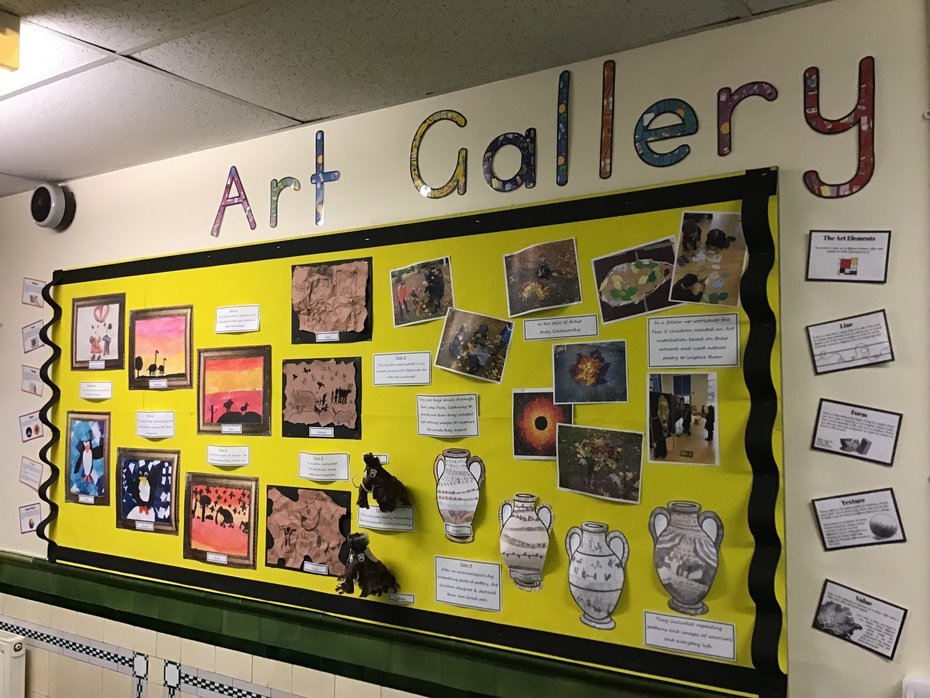 Here are some of the most recent pieces of Art across all the Year groups. Most of the work links
to topics that the children have been covering during the Spring 1 half term.
Take a closer look at some of the fantastic work!
Edgelands Arts Company delivered a project called 'With the Landscape' with our Year 5 children in the Autumn term. This involved a walk through Carr Lodge Park in Horbury with two community artists. The children had the opportunity to record the sounds they heard and then they created images to capture the sounds. The children worked collaboratively and had the opportunity to present their process to their peers.
Take a look at some of the stunning photographs! They are in the style of Andy Goldsworthy.
Following the outdoor learning experience, the Year 5 children did a follow up workshop in School with the community artists. They created an art installation in our School hall based on their artwork and used nature poetry and music as a stimulus.
Every year Horbury Primary Academy participates in the 'Take One Picture' project.
The National Gallery's 'Take One Picture' scheme focuses on a painting from the collection to inspire cross-curricular work in primary classrooms.
The project runs over two weeks and the work is displayed in our School hall for parents and children to view the exhibition. Work is shown from our youngest children in nursery to Year 6. It is always a very popular event and a great end to our academic year!
Bathers at Asnieres by George Seurat 1884
This was the piece of Art we used for our Summer 2018 project.
Seaport with the Embarkation of the Queen of Sheba by Claude 1604/5- 1682
This was the piece of Art we used for our Summer 2017 project.
The Castle of Muiden in Winter by Beerstraaten 1658
This was the piece of Art we used for our Summer 2016 project.
Our Gallery of work from the Summer 2016 project
At Horbury Primary Academy we believe that:
Art and design stimulates creativity and imagination. It provides visual, tactile and sensory experiences and a special way of understanding and responding to the world. It enables children to communicate what they see, feel and think through the use of colour, texture, form, pattern and different materials and processes. Art and Design contributes to the development of the whole child emotionally, aesthetically, spiritually, intellectually and socially. It creates in most children a sense of enjoyment, motivation and a sense of purpose.
Aims
To enable children to record from first-hand experience and from imagination through exploring a wide range of media.
To develop creativity and imagination through investigating a range of skills, techniques and processes.
To foster an enjoyment and appreciation of the visual arts and a knowledge of artists, craftspeople and designers from a range of cultures.
To involve children in experiencing and learning an artistic visual vocabulary so that their expertise in the application of visual perception and in communicating visually is increased.
To compare their work to that of artists and craftspeople and evaluate ways of improving their work

To develop children's understanding of colour, form, texture, pattern, line, tone, shape and space.
Objective
To raise the quality of teaching and learning of art.
Teaching and Learning
The processes of art should ensure that children experience a wide range of activities presented in a structured way which ensures progression and development. We will allow the children opportunities to explore and develop skills through the teaching of the elements of art:
Colour, tone, line, pattern, texture, shape, form, space.
Developing skills and Processes
Children will be taught skills in a range of skills in a range of two and three dimensional art and design processes. These competencies should increase in complexity as the child moves through school. The process of design should permeate all art work with children collecting, selecting, assembling and organising resources and materials. A balance of art activities will include the use of:
Painting textiles computer art
Drawing modelling exploring the works of
Printing photography artists, craftspeople
Collage/mixed media carving and designers
The taught skills and processes should involve a range of first and second hand experiences utilising the following stimuli.
Secondary experiences
Graphic reproductions eg books, magazines, posters, prints, illustrations.

Media images

Collections of natural and manufactured forms

Collections of groups of things eg different types of fabric, objects made from clay, things with holes.

Contrasting objects eg old/new, rough/smooth
Use of ICT
Children will use ICT to enhance a range of skills such as:
Drawing

Designing

Finding out about different artists, craftspeople and designers.

Researching artistic styles and art from other cultures.

Use a digital camera to record their own and collaborative work.

To explore the elements of art.
Inclusion for all
At Horbury Primary Academy, children of all abilities are encouraged to participate and make progress in a wide range of activities. Tasks are differentiated to meet the needs of SEN children as well as Gifted and Talented children. Children have opportunities to work individually, in ability groups, in mixed ability groups or in pairs.