The year 4 teachers are Miss Williamson, Mrs Allott and Mrs Williams.
Miss Williamson's class is 4 Ouse and Mrs Allott's and Mrs Williams' class is 4 Calder. Mrs Allott teaches for three days and Mrs Williams teaches for two days.
In Year 4 the children will have weekly spellings tests. Tests will take place on the Monday of each week, new spellings will be issued on a Tuesday.
Each child will also receive homework that should be completed and returned to their class teacher. Sometimes this will be a short focused tasks or a longer project. Homework will be normally issued on a Friday to be returned to school by the Thursday of the following week. All children have been issued with a homework book.
The homework for this week is:
Roman Coins reading comprehension
Halving numbers
Please return homework to school by Friday 24th May.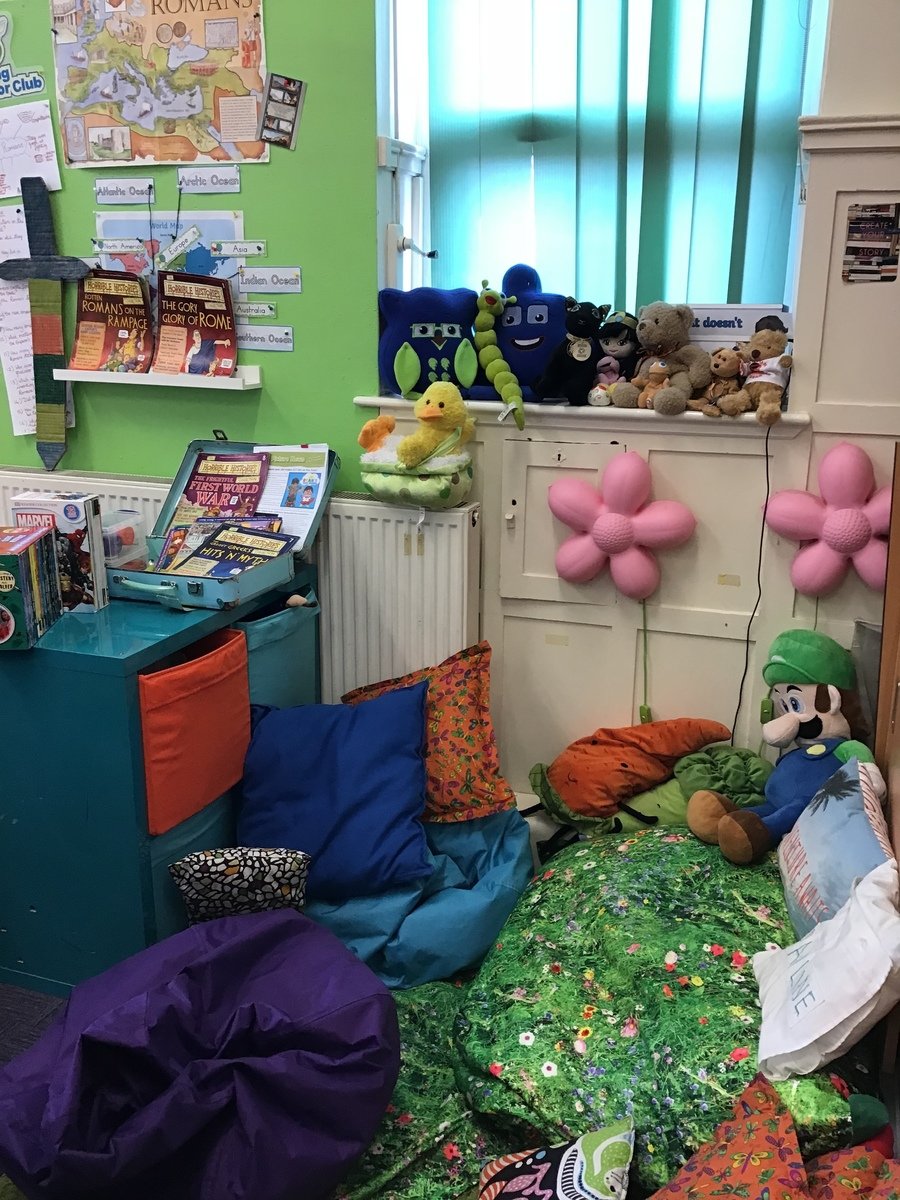 In Year 4, our reading corners allow opportunities for the children to sit and enjoy reading their chosen book.
Our interactive English and Maths Working Walls help to support us during lesson time.
Reading
All children have been issued with a home reading record (green and white in colour). These are to be filled in by your child but please feel free to also add parent comments. We encourage the children to bring them to school each day alongside their reading book. Once the record has been filled in, please ask your child to pass it to their class teacher. In both year 4 classes, the children are completing a loyalty system whereby they receive a sticker per week if they read. In turn, these stickers build up to become merits. Many children have already earnt their bronze and silver loyalty awards and are now working towards completing their gold award.
The children have the opportunity to select books from the school and class library and take them home. Please check that your child is coming home with their reading book and reading it. The children are talking part in one to one reading with their class teachers. Please ensure that your child brings their reading book back to school each day as they may be asked to read.
All children have been issued with a login for Fiction Express and a letter has been sent home. The class teachers are now able to see which areas have been completed. It is lovely to see so many of you reading. At present, we are still trialling this website and we welcome feedback. If your child reads a book on the site, then please ask them to record their reading in their home reading record.
The children take part in daily whole class reading comprehension work between 9-9:30am. We will starting a new reading comprehension after the holidays.
English
In English, the children will be working upon their new book-led curriculum text - Cloudland. They will be writing descriptive accounts of a weather condition and then moving onto writing character descriptions.
Maths
In Maths, the children will be consolidating previous learning about capacity and working upon extending their knowledge of mass and measures.
Science
In Science, we will be studying animals including humans.
Helpful maths websites.
Please click on the links:
The children in Year 4 took part in a fantastic Roman Day on Friday 22nd March. During the day, the children investigated Roman artefacts, took part in chariot racing, played a Roman numeral game and completed a Roman quiz.
Design and Technology
The children will be completing their modern Roman torches this half term. They will be incorporating an electrical circuit into their design.
The images below show the work that we have been completing in Year 4
Working upon our Roman Mosaic art work.
Swimming
In Year 4 the children will be taken swimming on Wednesday afternoons.
For each swimming session your child will require the appropriate kit, for girls the ideal swimwear is a one piece bathing suit and for boys above the knees swimwear. No jewellery should be worn for swimming sessions - it cannot be simply covered up. This does include pierced earrings. Your child should also have a towel and a bag to carry all of their things.
Go Noodle and Supermovers
Both of these websites are brilliant at encouraging physical activity. Go Noodle does require a log in which is an e-mail address and a password of your choice. Both websites are free to use.
Year 4 Newsletter
Polling Day
School will be closed on Thursday 23rd May
Parents' Evenings
It was lovely to meet with you all at our Parents' evenings. Thank you for attending.
Weekly Spellings
Spellings to be tested on Monday 20th May:
expansion
comprehension
extension
tension
revision
confusion
attention
intention
Homework has been set.
PE
PE will take place on Thursday with Mr Hannington. This half term the children are taking part in outdoor games lessons with coach Nikki on a Monday afternoon.
The children will also need their PE kit this Friday morning.
Pease ensure that your child has both indoor and outdoor PE kits.
We are noticing that some children are not bringing their kits to school, please remind them to bring them to school. If your child does not bring their kit, they will be sent home with a letter which needs to be read, signed and returned to school.
Year 4 Multiplication Test
As of 2020, children in Year 4 will be sitting a Year 4 Multiplication test set by the government. The children this year, will be sitting a practise test in Summer 2019. This test will test all the times tables up to 12x12. The test will be interactive and below are some sites to practise.
http://www.iseemaths.com/tables/
BIG Maths
Each day the children take part in BIG Maths work. These are usually CLIC sessions. CLIC stands for:
Counting
Learn Its
It's Nothing New
Calculations
The children will also take part in weekly BIG Maths tests where they aim to beat their previous score.
In school, we keep tests 1,5 and 10. The other tests will be sent home with your child so please take a look at it with your child and help them to practise.
Learn Its
The Learn Its for this half term are revisiting and revising the x12 times table
BBC supermovers is a brilliant site for learning times tables.
Please come and talk to us to find out more about BIG Maths or click on the link below